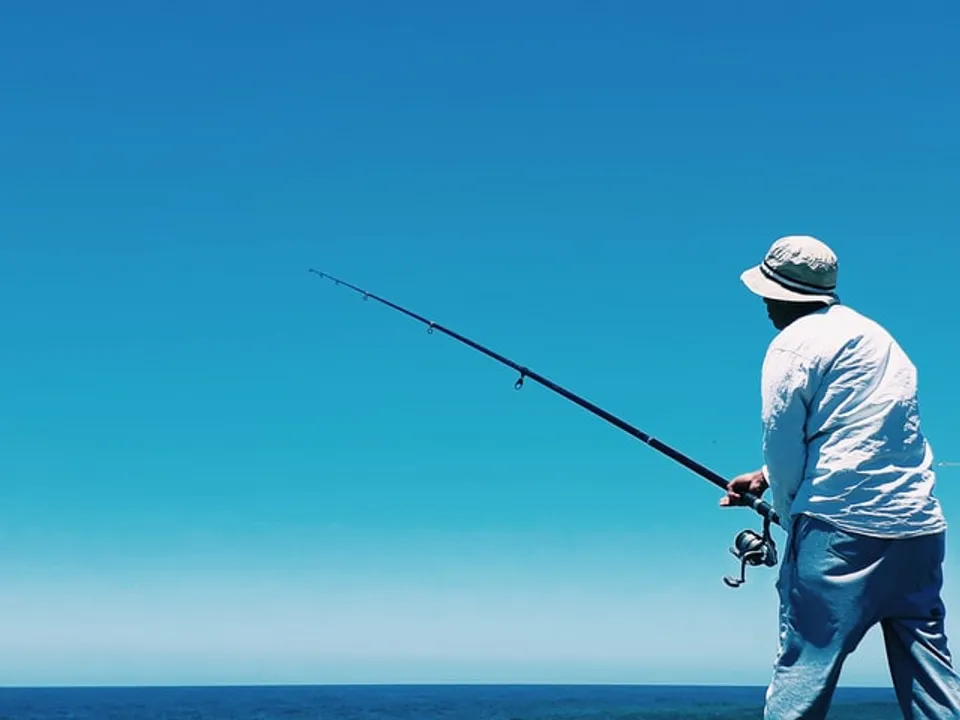 Articles
Types Of Fishing Reels And How To Use The Best Fishing Reels
06/19/2021
Anglers everywhere know that various types of fishing require different types of fishing reels. Fishing reels are designed to fulfil certain fishing purposes and they can only prove to be the best fishing reels when they are used for the type of fishing they are designed for.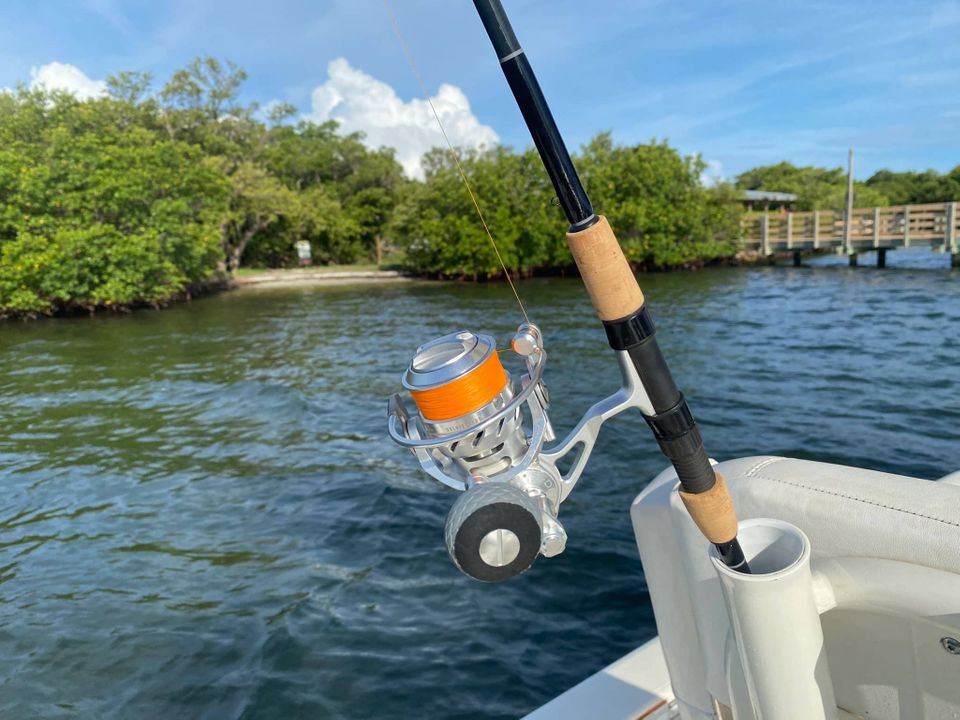 If you are new to fishing, difference among fishing reel types can confuse you. We have developed this complete guide to help you identify the different fishing reel types. 
Things to Consider:
Before going further into the categories of fishing reels, you need to understand that each fishing reel is designed for different angling techniques. This is why you need to learn how each of these reels is constructed, how to cast them and what baits to use with them. You also will be able to learn fishing reel sizes and which type of fish each of these reels can help you catch.
Different Types Of Fishing Reels:
Here are the best fishing reels and how to use them:
1. Spin cast Reels: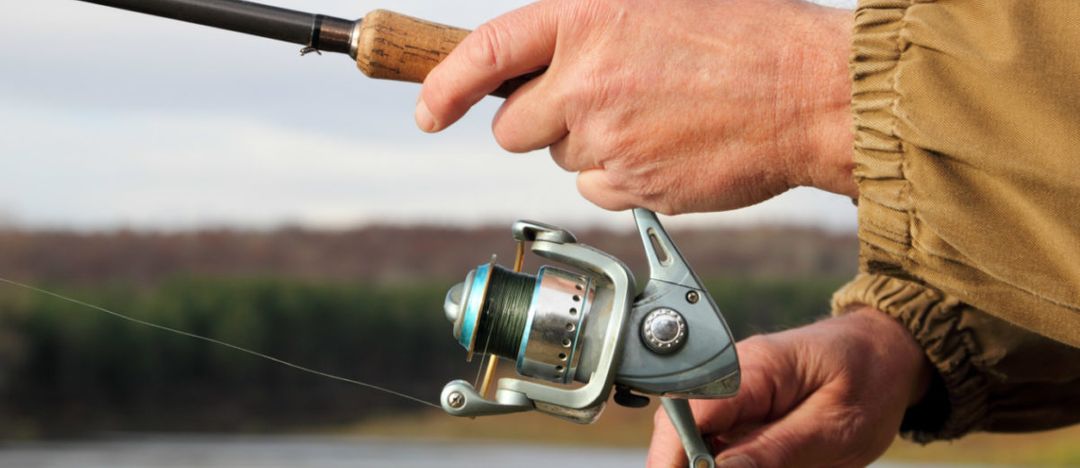 Picture From : theadventurejunkies.com
Spin casting reels were all the rage few decades ago. These reels are the simplest and cheapest old fishing reels with modern designs. If you are a beginner who is learning fishing and angling techniques, you should start with these reels as they make angling really easy to understand. 
These cheap fishing reels have basic design with a metal nose cone. This metal nose cone covers all the components of the reel under its shell. The back of these fishing reels has a button which is easy to use. Due to its ease of use and affordable price, spin cast reels are often used by first timers, casual anglers and teenagers. 
Casting these reels is very simple. You can start by pressing the spool control button, take the swing and cast or release. Releasing the button will result in the line flying out to where your rod is pointed towards. When you are satisfied with the length of line, press the spool control button again and it will stop extending. 
These spin cast reels also have a drag adjustment system, with the drag on the side of the reel. It helps you adjust how much resistance you want a fish to face when it is pulling on the line. A spin cast reel offers casting accuracy and the lines and hooks are easy to untangle. If you have any tangles on your line, just open the bail of the reel and start pulling on the line. 
The biggest advantage of using a spin casting reel is its simple functioning. These fishing reels rarely have tangles which make them less of a work. These types of fishing reels are also very affordable.
Yet there are some disadvantages of using spin casting reels as well. Even though the line adjustment allows you to decide how long you want your casting line to be, they are still not very long as compared to other fishing reels. The line of spin casting reels are relatively smaller which limit your range of casting.
These fishing reels don't have a heavy test line, so they are harder to be used for big game fishing. If they face great resistance, they can break under pressure. These reels are often made from low quality materials which means that they are not meant to last long. 
The closed design of these reels also make it hard and sometimes impossible to clean these reels. When you drag your line back inside the reel, it might have debris or sand stuck with its wet surface. This sand and debris can get inside the reel and reside in the nose cone. It can result in high drag resistance and corrosion.
2. Spinning Reels: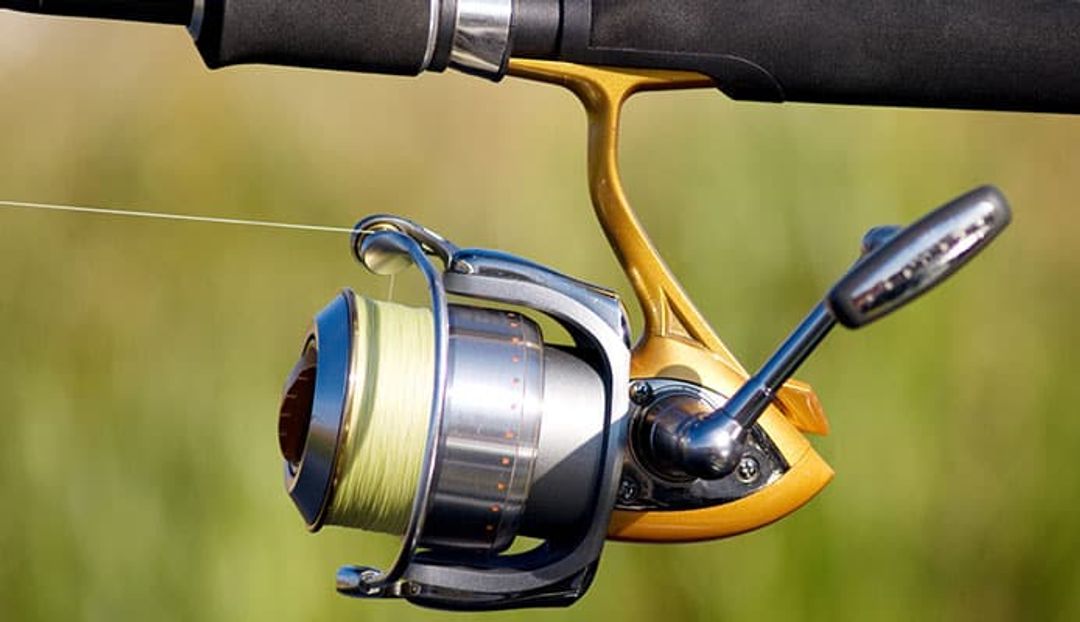 Picture From : globosurfer.com
These are the most popular and commonly used by anglers everywhere. Even though these fishing reels are a bit complicated to use, they provide so much versatility that many anglers will not even fish without spinning reels.
The durability of spinning reels make them best fishing reels for catching big fish such as tarpon or bass. These reels are also easier to learn and use which is why, if you want to advance from spin casting reels, spinning reels should be your choice. These reels have an open faced design with the drag placed on the top of the reel. This type of reel spins when the line is retrieved which makes it easy to drag it back.
There is a metal bail in the best spinning reels. The purpose of this metal bail is to prevent the line from unspooling as the effect of drag. This metal bail also helps to guide the line back evenly into the reel.
Casting from a best spinning reel is really easy. Just flip up the bail wire. It will release the line for casting. When the line is as long as you want, you can lock the line in place by either manually flipping the metal wire down or you can turn the handle. 
The biggest advantage of a spinning reel is that it attaches with the rod from below. This allows you to hold the rod easily. It also provides easy maneuverability and balance during casting and fishing.
These fishing reels work best with small and light fishing lures and baits. They are used to catch different type of fishes such as tarpon, Snook, bass etc. 
A spinning reel has thin and breaded lines which provide powerful pull against large catches. The casting distance of spinning reels is also very large as they have long lines 
These reels are available at affordable prices so you do not have to spend a lot if you want one. Most anglers prefer to use these reels over other types of fishing reels.
The draw back of a spinning reel is that it can get tangled while dragging back or after you have casted the line. Some spinning reels are made from light materials which can not only effect performance but can break under immense pressure.
3. Bait Casting Reels: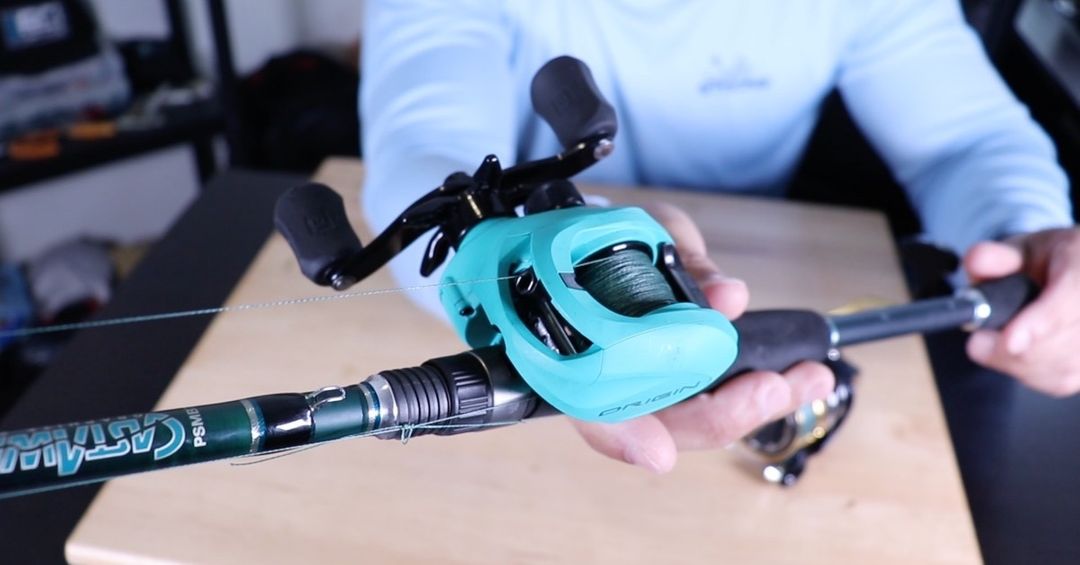 Picture From : Saltstrong.com
 The bait caster reels are the best fishing reels favored by experienced anglers everywhere. The bait casting reels are most advanced and powerful fishing reels. The reason why a baitcaster rod and reel is preferred over other fishing reels is that they provide high precision, better accuracy and more power over long distance fishing. These fishing reels also don't get tangled which is why they are used by fishing pros.
Bait casting fishing reels are advanced fishing reels which require proper learning before use. The best baitcaster reel has various moving parts which allow higher accuracy and easy maneuverability. Once you learn how to use a baitcaster reel, your fishing experience will be fun and fulfilling. 
Bait casting reels come in light and heavy versions. You can choose either one depending on your fishing preferences. These fishing reels are perfect for fishing big game fish. Due to the durable construction, these reels have strength to bear resistance and heavy pound test lines. 
Bait casting reels have two sub-categories. They differ in construction and functions from each other. The round bait casting reels have large spool which has a relatively long line. With this type of spool, you can cast as far and wide as you want. This allows you to fish from shore and even when fish are near the bottom, you can easily cast deep with these reels. 
Using bait casting reels can be tricky at first, but once you learn to use these fishing reels your fishing game will be taken to the next level. You will, of course have to learn through trial and error, yet practice and time provides best results when learning to use these reels.
The other type of bait casting reel is called a low-profile bait casting reels. These reels are lightweight, compact, and ergonomically designed. These fishing reels prevent any line twist and they make fishing fun. You can catch wide variety of large fish with these reels.
A bait casting reel is placed on top of the handle of a fishing rod. It has a sturdy design which is semi-enclosed. Bait casting reels is designed to provide customization and easy maneuverability. The drag is placed right next to the reel handle. For higher performance, a spool tension knob and a brake is constructed in the reel. These components help to decide the speed of casting line. With the help of these components, you can also control the length of the line. You can also throw the line far and deep because of these two components.
A bait casting rod requires you to manually stop the line by pressing the spool with your thumb as these reels don't include a bail. In order to have a straight, tangle-free line, press your thumb against the spool after casting. If you avoid this, it will result in the line tangling and messing so much that it will be hard to untangle it. The tangle makes something similar to a bird's nest, which is why it is called as such.
You can stop the line when you feel it is long enough, even during the flight of the line. Stopping a line in the air also helps to cast precisely. After you have casted the line long enough, and the bait has been placed where you need it to be, just press a clip to the reel, which will lock the line.
The reason why bait casting reels are considered to be anglers favorite is because they are the most powerful fishing reels. These fishing reels ae perfect for fishing big fish and they can endure high resistance. These fishing reels also have more pulling power, meaning less effort on your part. 
You can also observe and feel the line casted from a bait caster which helps you to easily control the length and distance of the line. You can easily stop the line when you are satisfied with the casted length. These fishing reels are also highly customizable and best for fishing different type and sizes of fish.
A drawback of bait casting reels is that they are highly expensive. They are, in fact, the most expensive fishing reels out there. But the quality and performance make up for the price. 
Another disadvantage is that these reels require different setting for different type of baits and lures. You will need to adjust the setting every time you change lure to a different weight. They also take some time to learn which is why they are best for people who already know how to use a reel.
Baitcaster vs Spinning Reel Difference: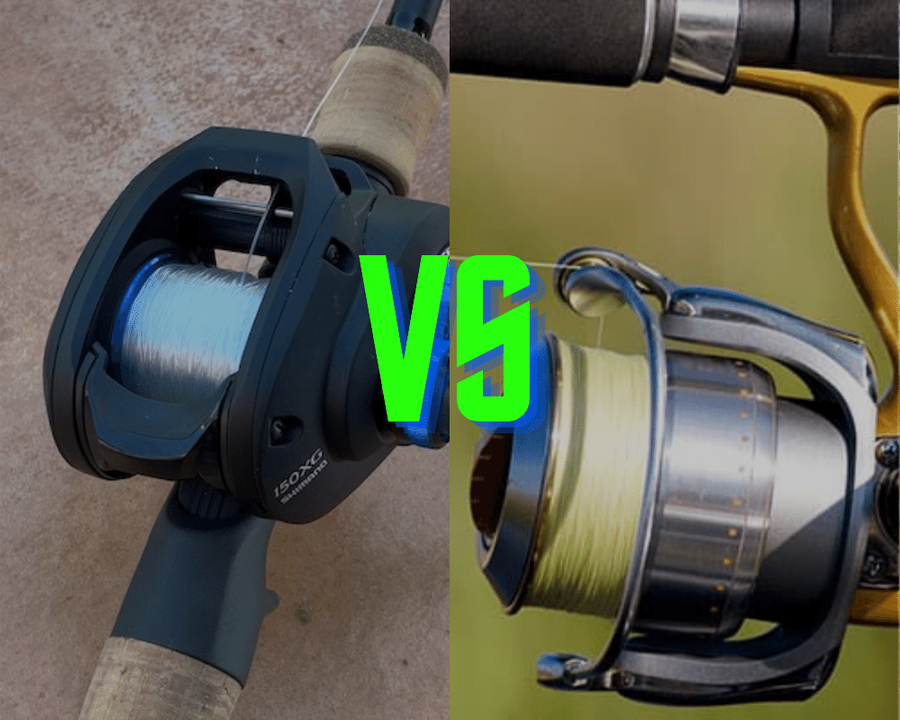 Spinning reels have bigger rod guides as compared to bait casting rods which have smaller line guides. 
In bait casting reels, the line is released in a straight path, yet in spinning reels, line flies out in circular motion. For the purpose to provide more space for casting, the line guides in spinning rods are kept bigger.
Different Uses of Fishing Reels:
1. Offshore Fishing: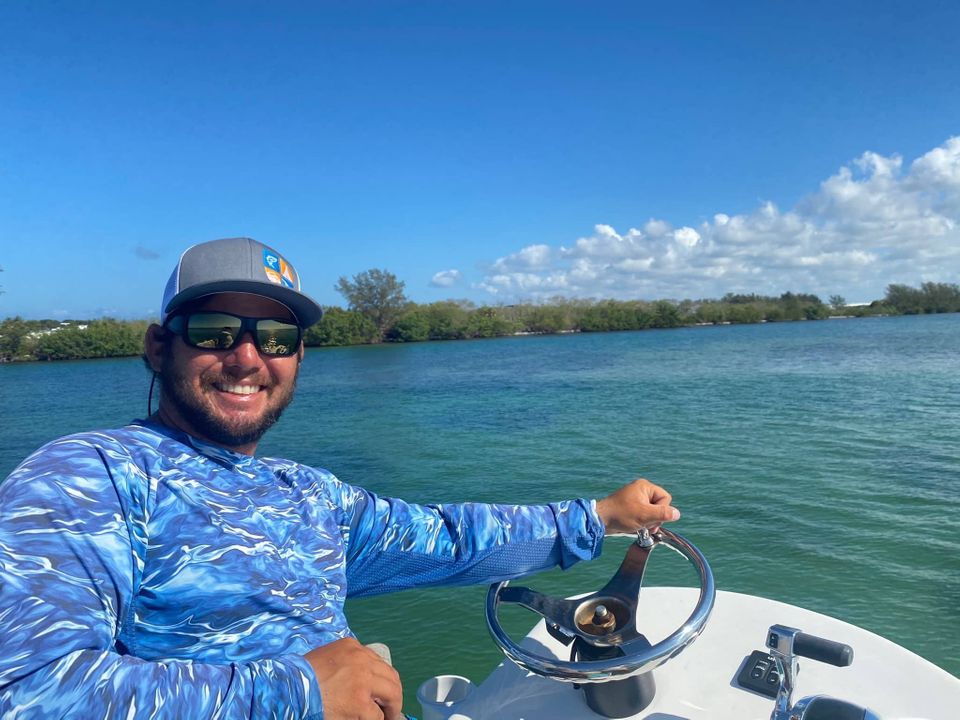 Offshore fishing requires a strong and tough hand fishing reel. For this type of fishing spinning or bait-casting reels are used. These reels are made from strong materials to provide durability and strength against heavy weight casting. 
Offshore fishing requires more maneuverability as the bait is casted from a long distance and it takes great effort to pull the catch back towards the shore. Due to this purpose, the offshore fishing reels are designed to catch big game fish. These fishing reels can stand harsh salt-water splashes and have advanced saltwater corrosion protection.
Offshore fishing reels are often the most expensive reels as they are made from premium materials and provide longevity after repeated use. Traditionally bait-casting reels were used for offshore fishing, yet spinning reels quality have also been improved in order to be used for these purposes.
2. Surf Fishing: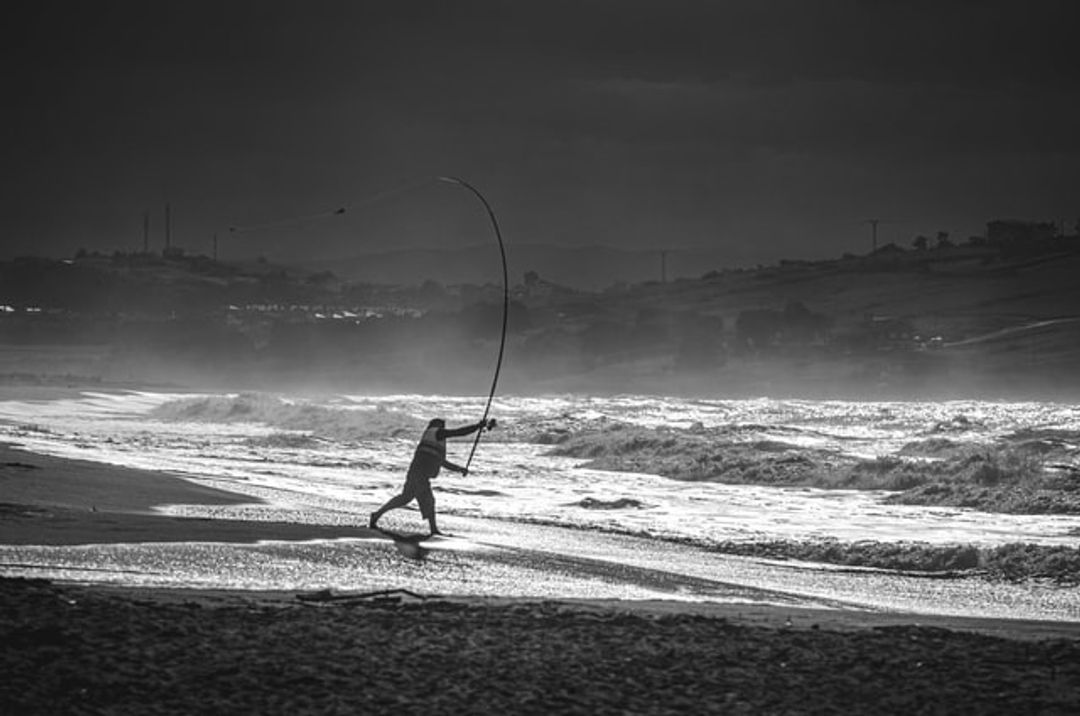 Surf fishing is considered a rigorous game. Apart from water resistance, surf fishing also presents salt water, sand and sun as biggest challenges that a reel has to face. Surf fishing reels are designed to fight with these challenges, while simultaneously providing you a fun fishing experience.
Surf fishing reels are made from graphite, or anodized aluminum. Sometimes, both materials are used in the construction of these reels. To prevent corrosion and drag resistance, surf fishing reels have stainless steel ball bearing and sealed drags.
Spinning and bait-casting, both types of reels are made for the specialized purposed of surf fishing. You can choose whichever one you like, depending on your fishing style and preferences. A best saltwater spinning reel is light in weight, yet bait casting reels are stronger. Both of these types of surf fishing reels have amazing retrieving strength and versatility.
Surf fishing also requires casting accuracy and long casts. They must also be able to hold longer fishing lines. So the surf fishing reels are made to serve these purposes. You need to pair these reels with good quality surf rods to get best results.
The best surf fishing reels also provide versatility when it comes to fishing different species, using different fishing techniques and fishing lures. You can use a wide range of artificial lures, cut or live baits and fish powerful fishes such as bass or fast fishes such as Spanish mackerels with surf fishing reels.
3. Fly Fishing: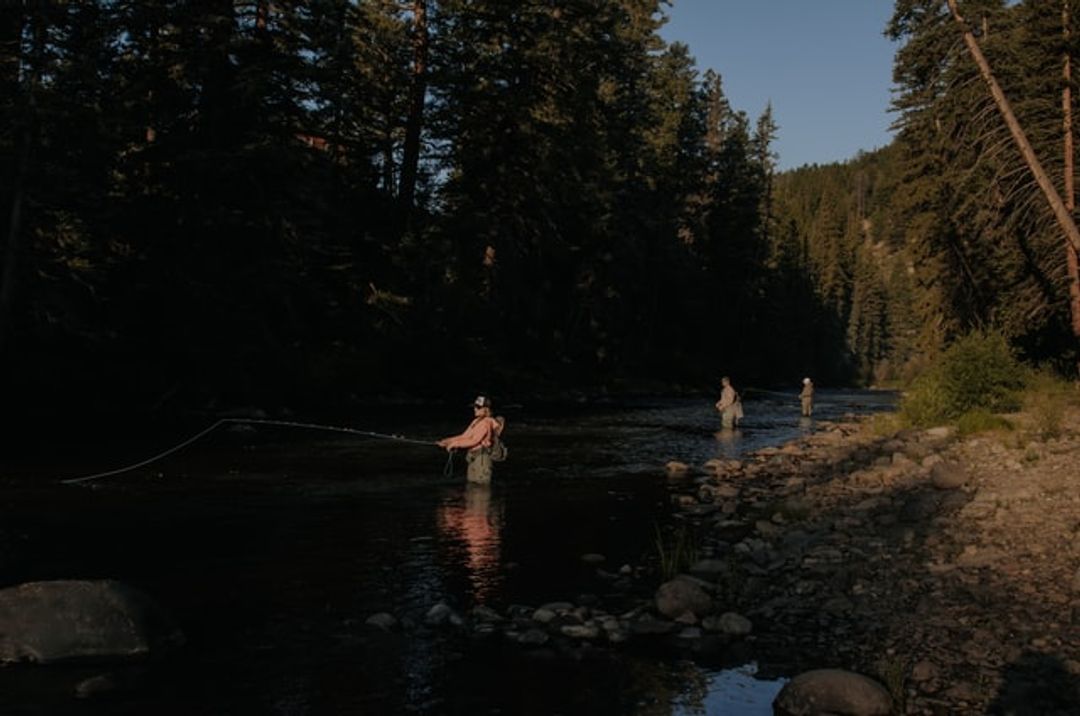 Fly fishing requires most accuracy when it comes to different fishing techniques. This is why the fishing reels designed for fly fishing are made with precision in mind.
When fly fishing, you need higher accuracy for the line reach to your desired spot. The fly fishing reels are designed for simplicity and durability. These fishing reels have fast retrieval speed and reliable strength. 
Fly fishing reels can be expensive yet they provide long-term use as they are made with strong materials and provide strong corrosion resistance.
There are different types of fly fishing reels available in the market designed for different types and sizes of fish. For example, bass fly fishing reels hold more power and trout fly fishing reels are light in weight.
4. Troll Fishing: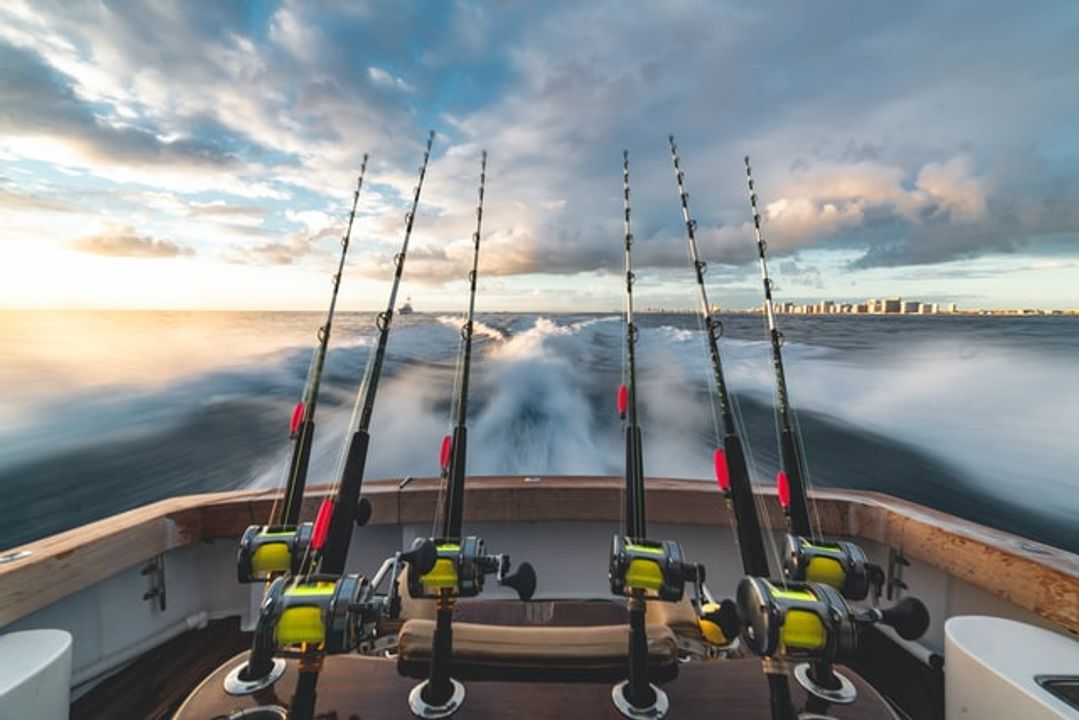 Troll fishing is often carried out in deep big waters. Anglers like to cast fish in deep seas. Sometimes big deep lakes and open rivers are also used for troll or conventional fishing.
Troll fishing is done to catch big game fish which is often present deep in the waters. Due to this reason, troll fishing reels need to be durable and heavy duty. They also need to have longer lines and immense retrieval power.
The fishing reels made for troll fishing have machined aluminum or graphite construction. These fishing reels have powerful and sturdy multi-disc drag systems. These drag systems are often controlled by a lever. These reels can also have star drag systems.
Troll casting reels also incorporate longer and stronger lines to go deep and catch big fish. The strength of the line provides power against big fish resistance.
In order to fight big fish and retrieve them with lowest effort on an angler's part, conventional reels have strong drag systems and dual-speed reels.
Which Fishing Reel Is Best For You?
To answer this question, you need to consider many things. Which type of fishing you like or do most often should be the first thing on your list of priorities when considering which fishing reel to buy.
Do you like shore fishing or do you like to go in the water to catch fish? Another question will be "what type of fish are you planning to catch? Large fishes require more strength and power and medium and small size fish can be handled easily. You also need to consider which type of bait or lures you are going to use. 
Different fishing reels have different build and they differ in strength and weight. You will need to decide whether you will like a lightweight fishing reel or a stronger heavier built fishing reel.
And lastly, you will need to consider your budget. There are fishing reels available as low as 12 dollars, and they can be as expensive as 1000 dollars. While you don't need to empty your bank account to buy a 1000 dollar fishing reel, you can get a good quality fishing reel in 100 dollars. Obviously, the price you pay for a fishing reel will decide the quality a fishing reel provides you during its use. Yet again, especially designed fishing reels can be more expensive than other fishing reels.
In order for a fishing reel to provide best performance, you need to pair these fishing reels with suitable best fishing rods. When fishing rods and reels complement each other, you can fish easily and get best fishing results. Only a best fishing rod will provide premium fishing experience. There are different types of fishing rods in the market that you can use. Also, if you want to get optimum performance and longer use out of your fishing reel, regular maintenance is necessary. 
Conclusion:
Fishing reels have different designs, price and purposes. There are different fishing reel sizes available in the market too. While spin cast reels are designed for the learning purpose of beginners and for casual fishing, they have lighter quality and cheap price. Bait casting and spinning reels are designed for experienced anglers.
Spinning reels have lightweight design with amazing retrieval capacity and stronger lines, yet they are prone to tangles. Bait casting reels on the other hand are heavy in weight, yet they have sturdy construction so they are sure to hold against high resistance of big fish. Yet these fishing reels can be difficult to learn and use as they have a versatile design, so they are not suitable for people who don't have any prior or basic knowledge of fishing.
Before buying one, make sure you are clear about the things that matter when buying a fishing reel. Ensure that you know which fishing style you will adopt, the type of fish you will catch and the price you are willing to pay for them. After deciding on these things, all you need to do is make the purchase. Visit Exposed Outdoors to read more articles about boating and fishing.