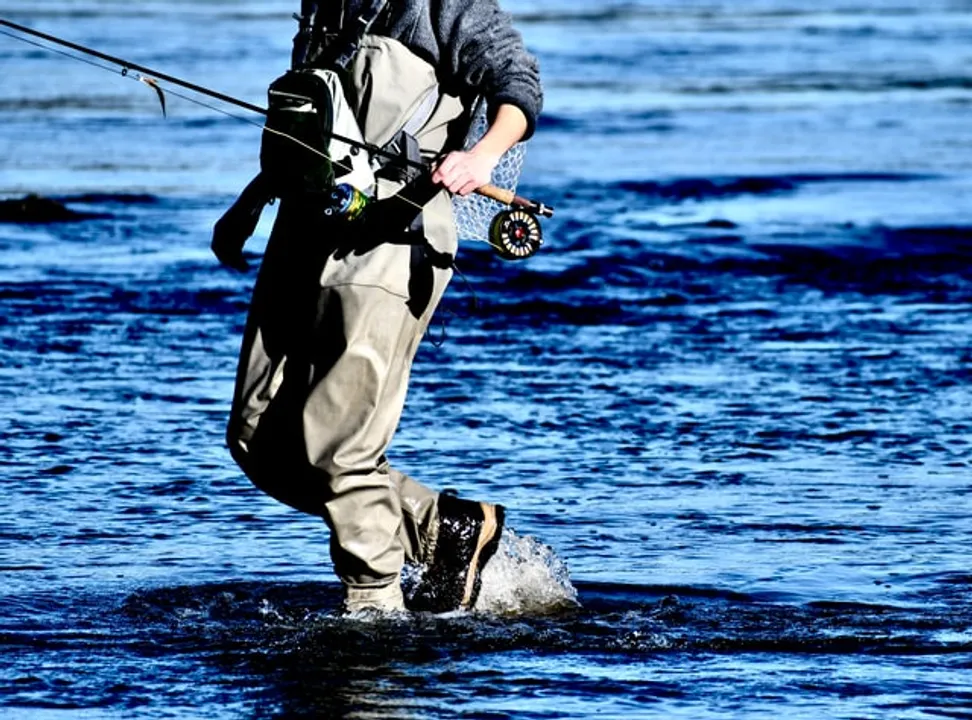 Articles
A Complete Guide To Fishing On Bull Shoals Lake
05/20/2021
A 71,240 acre artificial reservoir in the Ozark Mountains of southern Missouri and northern Arkansas, the Bull Shoal Lake has 1050 miles of shoreline. The lake is a popular attraction for fishing, boating and camping. There are many best fishing spots on Bull Shoals Lake. Numerous water sports are organized at these spots due to which this place is a famous tourist attraction.
The lake provides a vast playground for water sports such as jet skiing, sailing, boating, water skiing, snorkeling, kayaking, scuba diving and swimming. There are many rental marinas and resorts around the Bull Shoals Lake Arkansas, which accommodate tourists and visitors.
There are also nineteen parks developed around the shoreline of the lack which provide campgrounds, swim areas, marinas and bat launches. 
History: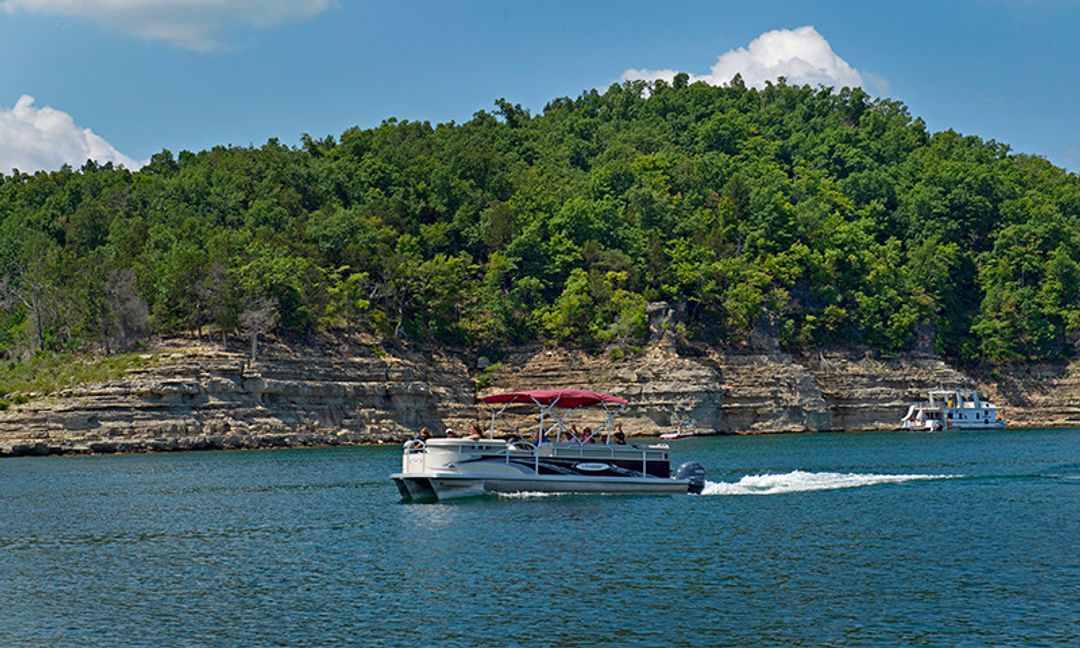 Picture Credits:www.arkansas.com
The construction on the White River for Bull Shoals Lake Dam started in June, 1947. After the completion of dam in 1951, in 1952, it was dedicated by President Harry S. Truman. The lake is known for its variety of fishes that sometimes weigh up to 12 pounds. Some of the national events on Bull Shoals Lake include the TBF Bass Federation, Brostock 2010 and 2011, and Bassmaster Elite Series Tournaments.
Fishing In Bull Shoals Lake: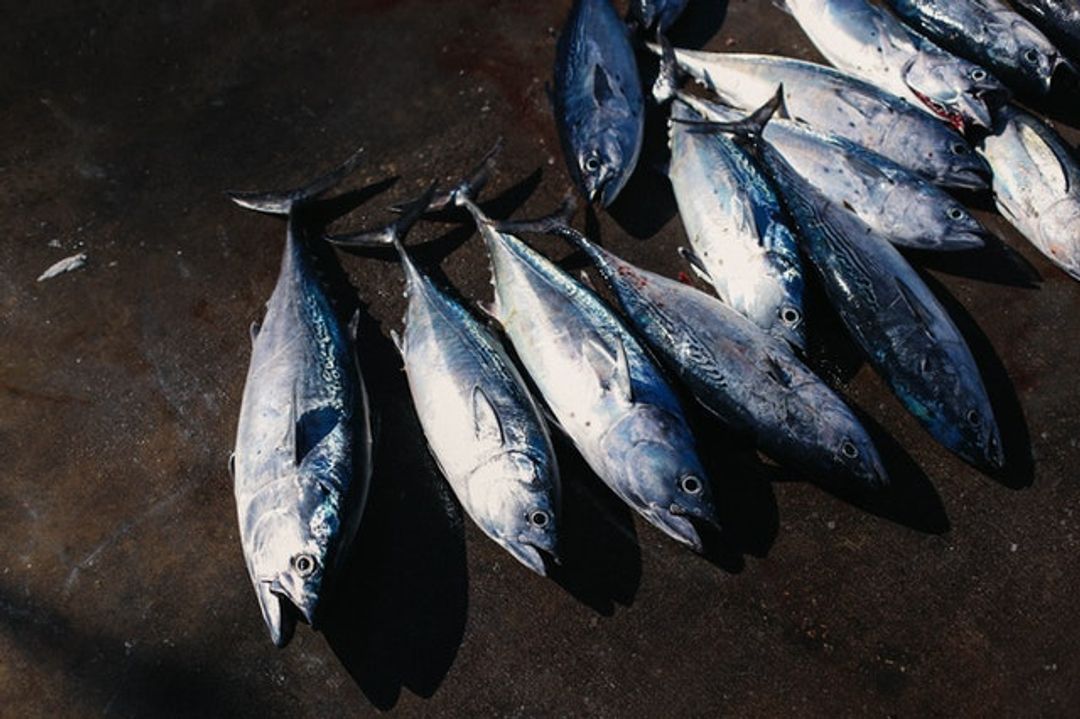 For fishing enthusiasts, who always love fishing for something bigger, Bull Shoals Lake Arkansas is a heaven. From bass weighing up to 12 pounds, Bull Shoals Lake is a popular fishing spot for walleye and crappie fish. There are a variety of bass fish, from spotted bass to largemouth bass and smallmouth bass. The lake is also home to catfish which can be up to 20 pounds in weight. Blue catfish in Bull Shoals Lake can even go up to 60 pounds.
Bass Fishing At Bull Shoals Lake: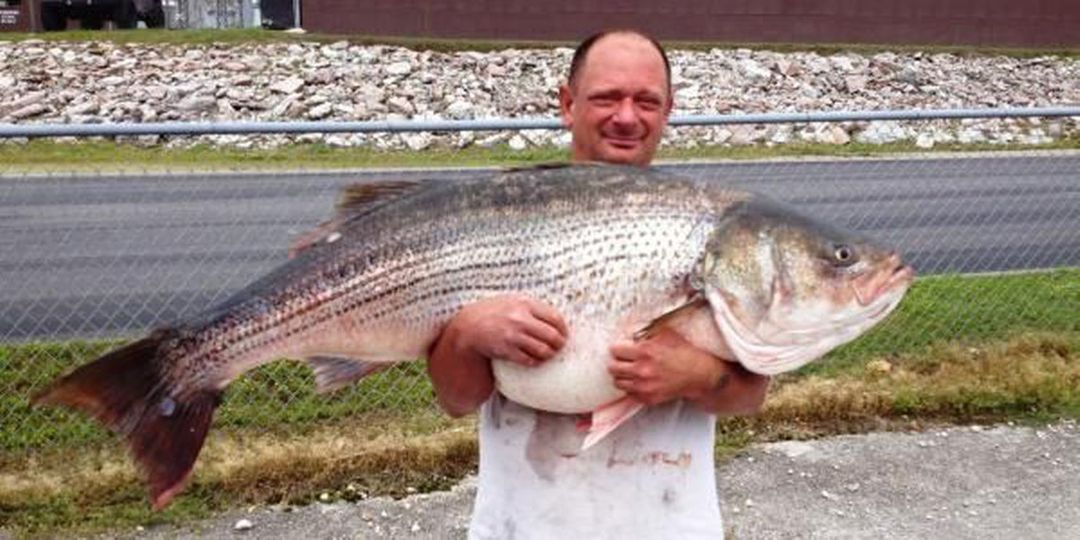 Picture Credits:www.kait8.com
Fishing bass is a popular sport activity on the Bull Shoals Lake. There are a variety of bass fish in the Bull Shoals Lake fishing grounds, such as striped bass, largemouth and smallmouth bass, as well as striped, spotted, hybrid and white bass. 
Fall, springs and early months of winter are perfect for bass hunting in Bull Shoals Lake. At these times of the year, bas is relatively shallow around the lake. The early spring fills the upper reaches of lake with white bass. The summer nights also see an increase in the number of white bass hunting. The months between September to May are highly favorable for black bass fishing. 
The Jimmie Creek Island, Sugarload Ledge and Yocum Ledge are perfect places to hunt for bass. The Jimmie creek island has an off-island ledge that extends down to the river channel. The Yocum Ledge also has river channel really close which allows for easy set-up. You can find these fishing spots easily on Bull Shoals Lake maps. 
According to the Bull Shoals Lake fishing reports, the fishing size of largemouth bass and spotted bass would increase up to 15 and 12 inches respectively in the years coming. The anglers are encouraged to practice catch and release techniques in order to maintain the population of these fishes in the water. 
A best way to differentiate between Bull Shoals Lake fish is to check the jaw bone length and the cheek scale size. Anglers can also check the tongue patch and the connectivity of the fin to differentiate among large mouth bass and spotted bass. 
Bass can be found along river banks, rocky points and channel swig area around the months of spring, fall and early winter. The poor weather conditions also bring the fish on surface. Fishing in the rain makes for easy catch. 
To hunt bass, crankbaits, spinnerbaits, plastic worms and jigs are most common type of lures around here. 
The Bull Shoals Lake fishing reports predict a lower catch in white bass as the population of white bass has decreased due to below average spawning. The smaller sized white bass is specifically predicted to be a low produce over the next years. The reports also point toward an uncertainty in further production of white bass If the river flow changes or lake level fluctuates frequently. 
Walleye Fishing At Bull Shoals Lake: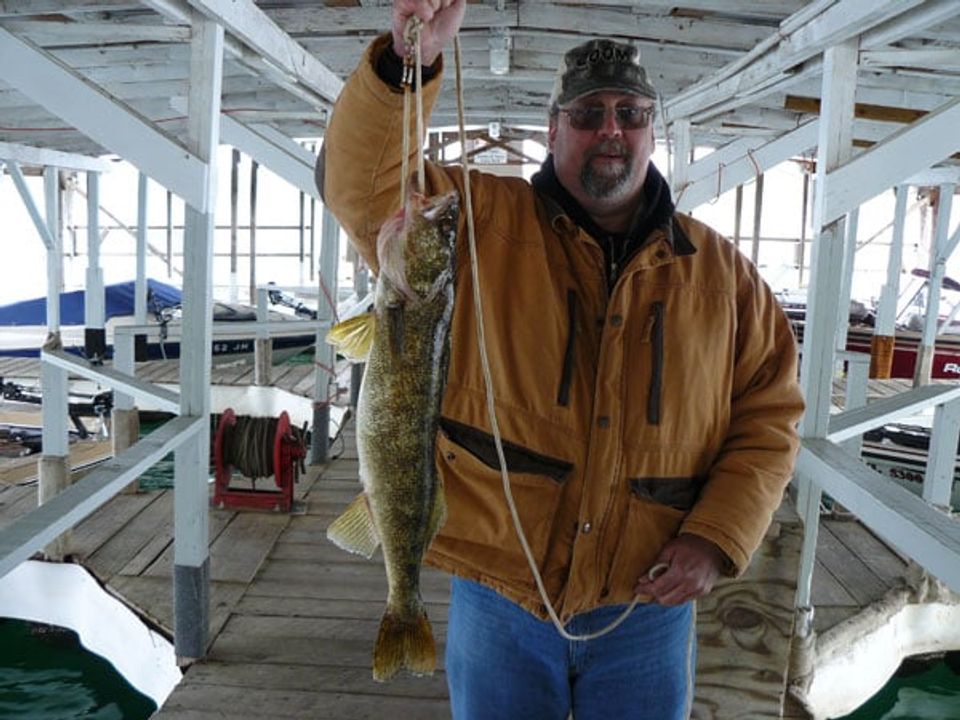 Picture Credits:sistercreekresort.com
The Bull Shoals Lake is famous for producing some of the largest walleye fish in Missouri. The colder winter months are best for Bull Shoals walleye fishing. 
According to one Bull Shoals Lake fishing report, the best part for walleye fishing is around 8 miles of the shoreline. Here, in the muddy flats, walleye are present in large quantities. For best walleye fishing results, experts recommend going fishing where the lip of the muddy flats run off into deeper water.
Another Bull Shoals Fishing report points towards a higher percentage of walleye production in coming months. These times will be good for larger sized walleye fish approximately 18 to 20 inches range. The class strength of walleye has improved which could result in high number of sub-level fish catch. 
Some fishing experts use stick baits and swimbaits to catch walleye. Walleye fish are also caught with bottom bouncers and night crawler by fishermen and locals. Sometimes minnows are also rigged on bottom bouncers or crankbaits are trolled along flats or over the depth of thermocline to easily fish walleye. 
Crappie Fishing On Bull Shoals Lake: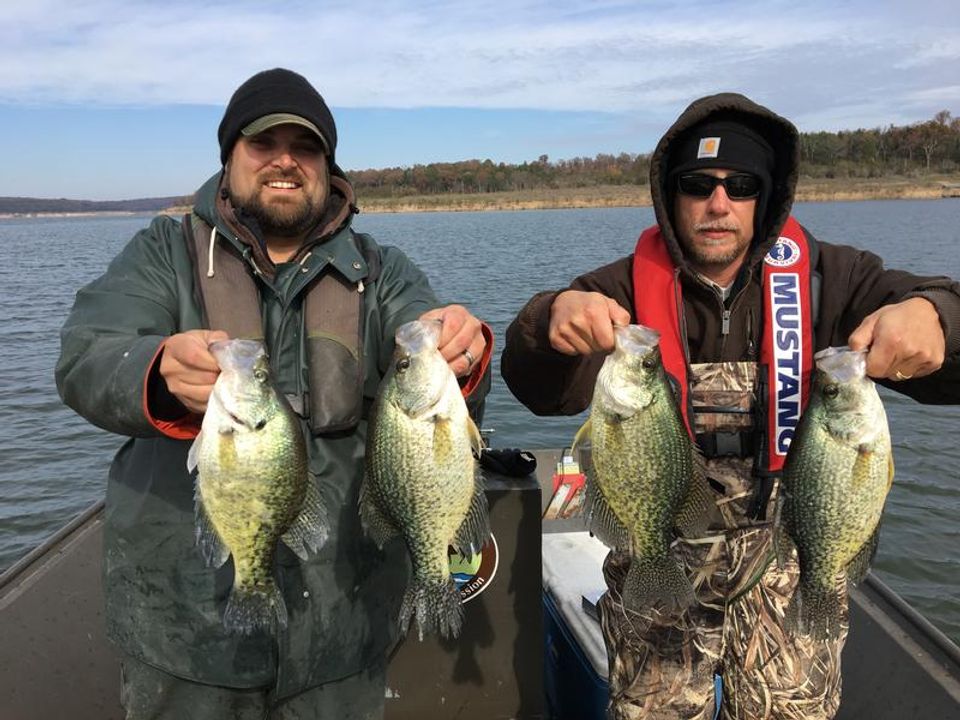 Picture Credits:www.crappie.com
There are many artificial reefs and fish attractors in Bull Shoals Lake which are added by government or private fishing businesses. The new artificial structures alone make 171 new best fishing spots on Bull Shoals Lake. 
These Christmas tree fish attractors and artificial reefs are perfect for crappie fishing. These trees are positioned in clusters just below the water surface and provide shelter for not only crappie but black bass, shad, minnows and other young fishes. November is preferably the best month of the year to find crappie around these brush piles in Bull Shoals Lake. 
The best way to be able to locate and know about these artificial brush piles is to look for the reflective blue and white signs that have been placed on these attractors. You can also look at any Bull Shoals Lake map to find these fishing spots. Keeping Bull Shoals Lake fishing maps with you when fishing also comes in handy when you need to decide your fishing spot. Another way is to install the MO fishing app on your smartphone or download the coordinates to your sonar from the website. These reflective signs provide a good spot for crappie fishing a 20 to 30 feet away from them. You can adjust the length of your rod according to your distance from the attractor. 
Jigs and minnows are used for crappie fishing during fall and spring months. 
White River Trout Fishing: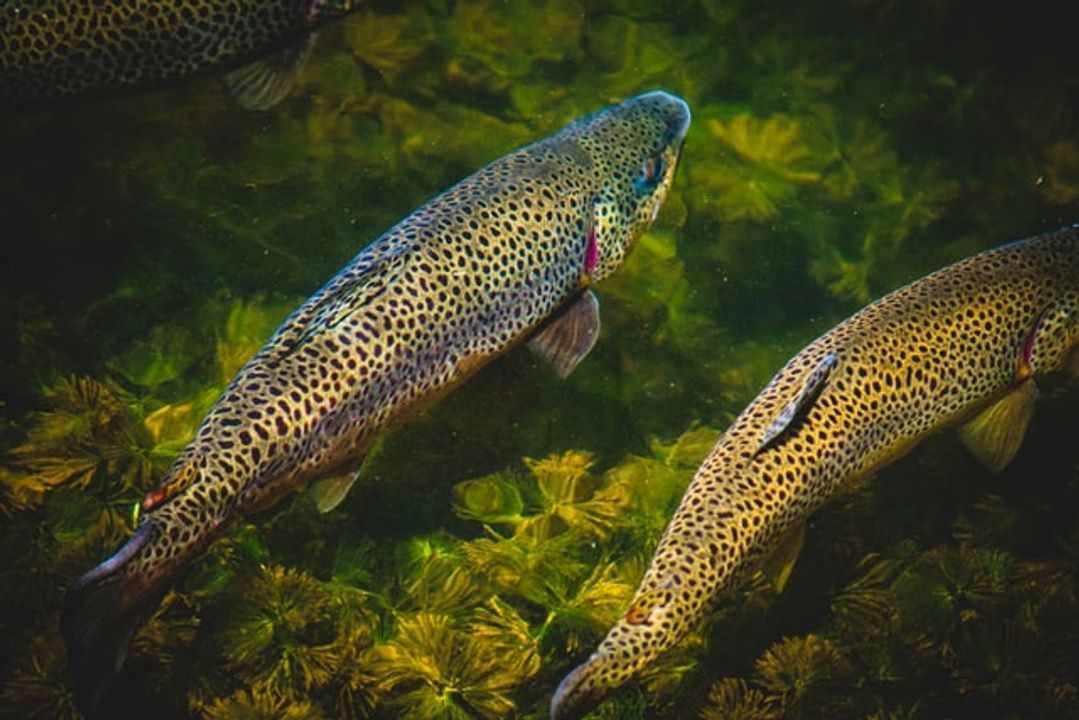 The whiter river below the dam has become another destination for Bull Shoals fishing enthusiasts, who come for trout fishing in these waters. The White River has plenty of cutthroat, brown and rainbow trout. There is also a large fish hatchery in the White River which stocks more trout regularly. 
The waters of White River are cool which require certain techniques and present unique challenges of their own for trout fishing. You need to understand the fish here and the environment in which they live to be able to have best fishing results.
The first and foremost important thing to understand when fishing in White River is the constantly varying water levels. The understanding of the dynamics of the river water in which fish resides and thrive plays a crucial role in the fishing quality. The water which is released through Bull Shoals dam affect the water level in the river. The water from the dam continually changes the water level in the White River which drastically affect the trout behavior here. This is why you need to be informed about Bull Shoals Dam Report before planning your trip here.
The water level in the White River changes many times a day. The rising or falling water levels from the dam can affect the water in White River on hourly basis. This will result in longer runs, deeper pools wider bank edges, stronger ripples and faster eddies with rising levels of water and vice versa with falling water levels.
Another factor which affect the quality of fish here is the changing levels in temperature year round. Though trout here survives in cold water which is rich in oxygen, the summer season can bring extremely hot days. There can also be temperature decrease more than normal which can result in extremely cold water. These temperature fluctuations affect the trout. This is why it is important to consider the choice of tackle and fishing approach keeping these factors in mind.
Another tactic for fishing is to develop a "stream sense", meaning to develop a sense of the river's flow and the position of the inhabitants under the moving body of water. In every river, lake and stream, there are shorelines and areas which provide fish with oxygen, food, nutrients and shelters. It is in this areas that fish are most usually drawn to and it is where you should go for fishing. 
The current of the water also forces the fishes to hide behind rocks, logs and bushes to wait for naturally drifted food. Eddies and similar areas where the water slows down or changes direction, can also be a place for fishes to rest and feed. Shoals also provide fishes to stay clear of the main channel and stay in these runs and get food that is being drifted with water. 
One thing to keep in mind in summer days is that fish hide in deeper pools during warm summer days, as these areas provide coolness and shelters. In these times, water runs slow and food is scarce for fish. This provides the fishermen with a range of choices as to how they want to fish.
The most common methods of fishing trout here is fly fishing and spin fishing and though the purpose of both fishing technique is the same, to catch trout, the techniques and set up are completely different for both styles. The mode by which you want to catch fish is up to your preference, skill and experience.
Rigging techniques for fishing trout is another crucial strategical me which need to be carefully pondered upon. How you stock your tackle box and which techniques you use for rigging determines the quality of your end results.
The fluctuating water levels of White River allows for two popular types of bait fishing techniques; the three way rig and the slip sinker rig. These fishing techniques, when aligned with best bait options, can result in good quality of trout fishing.  Moreover, both these techniques help in understanding river's flow and depth. 
You need to careful observe the flowing water. If the water flow is fast and thick, the more weight is required to mimic the natural bait that drifts downstream with water. The weight of the sinker needs to be adjusted accordingly in order to provide necessary resistance against the water flow so that it can be easily spotted. The appropriate adjustments also prevents the sinker to sit still and cause the bait to wave unnaturally in the river. In an ideal situation, the sinker will bounce along the river bottom and allow the bait to be seen yet not stopped. This enforces my initial statement that the sinker weight need to be adjusted accordingly with the water levels.
The rigging setup will only be effective when the bait is perfectly suitable and matched with the setup. You need to fill your tackle box with a variety of options in order to be able to adjust according to the situation. 
Trout fishing has many bait options, each with their own unique advantages and disadvantages depending on temperature, water level and clarity, desired depth, weather and even the time of the day. The seasonal insect hatching or shad killing also plays an important role in the selection of bait.
Many anglers prefer to use natural and live bait such as minnows, earthworms, shrimp, and crayfish. Worms, nuggets and insect larvae are also used. Artificial lures such as jigs and crankbait come in different size, color, weight and functions. The prepared bait also comes in a range of colors and textures. 
The best strategy when deciding the size of the bait is to use small sized bait in lower water levels and larger bait in higher water levels. Again, the approach to deciding weight should be changed accordingly with the fluctuations in water level and speed. 
Click here to learn important deep sea fishing tips and techniques.
Rules And Regulations: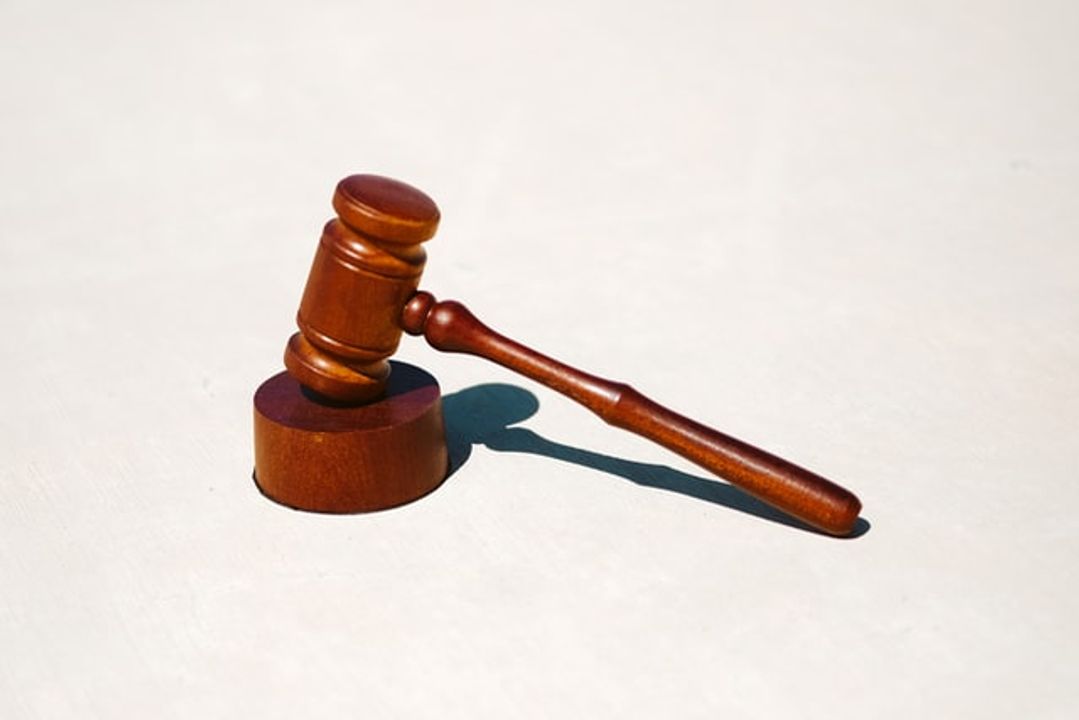 A very important thing to keep in mind before going to White River or Bull Shoals Lake for fishing is to know the rules and regulations of the specific area where you will be fishing. This will help you in avoiding any inconveniences and setting up your tackle box accordingly.
There is a requirement for anglers to have Arkansas State fishing license. For trout fishing in White River, anglers also have to purchase a Trout Permit. There are also some places where fishing is not allowed. Make sure to steer clear of those places in order to avoid fines. 
There are also regulations on keeping fish. The statewide regulation allows you to keep 5 trout in White River and only 1, 14 inches trout in Bull Shoals Lake Tail water.
Area maps, fishing schedules and fishing locations can be found in the guidebooks for up-to-date fishing regulations.
Conclusion:
For people who love outdoor activities, Bull Shoals Lake is a heavenly destination. Be it fishing, hiking, camping, boating, or vacation for a weekend, Bull Shoals Lake and the White River provide a great get-away destination. There is an abundance of fishing opportunities in this area which makes it a popular tourist attraction. Largemouth bass, small mouth bass, spotted bass, flathead and channel catfish, white and black crappie, walleye and rainbow trout, white bass, warmouth, bluegill, and striped bass are available in abundance in this area of Missouri. There are marinas and boat rentals available for fishing enthusiasts. There are also lodgings available for families. As this area is a popular tourist destination, there are restaurants and convenience stores available. You will find camp grounds and RV hookups around here too. Visit Exposed Outdoors for more related articles.